As everyone knows, Valentine's day is only about capitalism and sex! To commemorate this lovely day, here is a compilation of a variety of wonderful songs of lust for you to listen to while making a possible love interest highly uncomfortable
1) Danny Brown – I Will



This is one of the dirtiest songs I have ever heard, but at its heart it is a true love song. It's a rare rap song that can be so filthy without being misogynistic at all. Play this for that special someone that you have no boundaries with.
2) Crass – Smother Love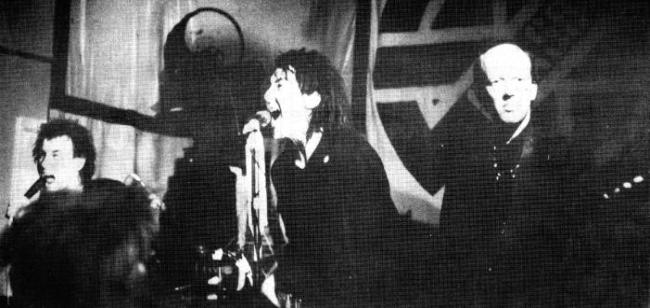 Think that Valentine's Day is a manufactured holiday, created by Hallmark to sell cards? Well, Crass puts the "crass" in "crass consumerism". Gee Vaucher scathingly tears apart the entire institution of love and monogamy, denouncing it as "another way to make men slaves and women at their beckon." Play this for yourself to forget Valentine's Day.
3) Richard Hell and the Voidoids – Love Comes in Spurts



If the word "spurts" doesn't make you uncomfortable, than this is the Valentine's Day song for you. The upbeat tempo and Hell's warbling, almost  unintelligible cries make excellent jam music with your special someone, and a great air-guitar opportunity.
4) Ghostface ft. Missy Elliot – Tush



This one is for all the ladies. Missy Elliot absolutely tears this track apart, representing all the maneaters on Valentine's Day. "Bush" is a pretty grimy word though.
5) Meatloaf – Paradise by the Dashboard Lights



A harrowing tale of Mr. Loaf selling his soul to a woman for one night of passion. It harkens back to a time when you and your beau could drive to the lake shore and lose your virginity in your car. Phil Rizzuto's commentary in the middle is a nice gloss over of the foreplay. Listen to this song if you want to reflect on your first time.
6) Beastie Boys – She's Crafty



The nascent images of rap metal were probably swirling around Rick Rubin's gigantic hairy brain as he put this unforgettable Led Zeppelin sample into this song of love turned wrong. This will definitely remind you to be wary of the pretty new things. Listen to this if you've been spurned by love.
7) Madonna – Like A Virgin



What can I say about this song that Quentin doesn't sum up nicely in Reservoir Dogs?
 Lemme tell you what 'Like a Virgin' is about. It's all about this cooze who's a regular fuck machine, I'm talking morning, day, night, afternoon, dick, dick, dick, dick, dick, dick, dick, dick, dick. Then one day she meets this John Holmes motherfucker and it's like, whoa baby, I mean this cat is like Charles Bronson in the 'Great Escape', he's digging tunnels. Now, she's gettin' the serious dick action and she's feeling something she ain't felt since forever. Pain. Pain. It hurts her. It shouldn't hurt her, you know, her pussy should be Bubble Yum by now, but when this cat fucks her it hurts. It hurts just like it did the first time. You see the pain is reminding a fuck machine what it once was like to be a virgin. Hence, 'Like a Virgin'.